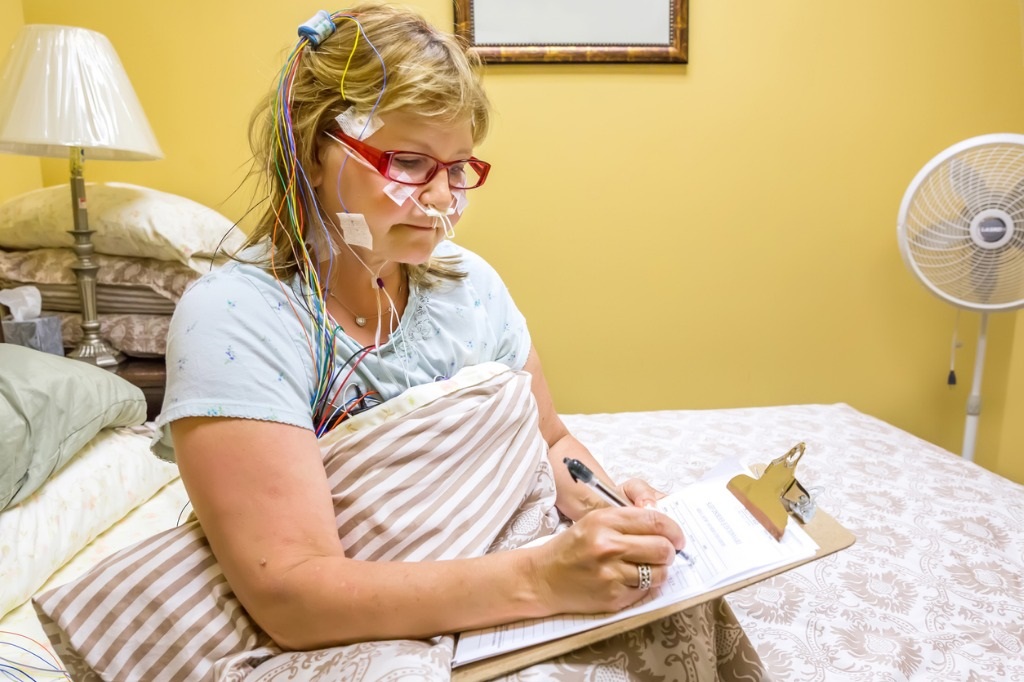 Sleep Study Instructions
Important Instructions 
All patients undergoing In-lab Sleep Studies will be tested for COVID-19. Pediatric patients 8 years old or younger do not have to have COVID test done but they will be screened. Testing will be completed at each of our sleep labs when patient arrives for their sleep study. The Technician will ask a few screening questions and then a quick nasal swab with be taken. Results are back within 15 minutes. Comprehensive Sleep Care Center is using COVID-19 Rapid Antigen testing that is FDA, EUA approved
You may go to sleep at your normal bedtime within the constraints of our sleep center protocols. Keep in mind, the earlier you go to bed, the more time we have to evaluate your sleep patterns. During the night, our sleep technologist will be available to assist you as needed. They may need to enter your room during the night should one of your sensors loosen during your sleep. If possible, we attempt to do this without waking you up or disrupting your sleep.
Your technologist will begin waking you at 5:00 am and remove the sensors and equipment. This can take about 20 minutes. 
How to Prepare for your In Lab Sleep Study
---
On the day of the sleep study, make sure that your hair is clean, dry, and free of oils, gels, hair spray, and other products. Please remove any hair extensions or wigs. The scalp must be accessible, or we will be unable to do the study.
You will have sensors with gel/paste, and possibly tape, placed on your head, chin, around your eyes, legs, chest, and finger, to record sleep activity during your sleep study.
Avoid napping on the day of the study.
Eat your regular evening meal before you arrive for your sleep study.
Avoid alcohol, stimulants, and caffeinated beverages (coffee, tea, and cola) for 24 hours before the study.
Wear comfortable clothing to sleep in.
We recommend you bring your favorite pillow and/or blanket to make you more comfortable.
Bring your regularly scheduled medications and plan to take them as you normally would unless your physician instructs otherwise.
Bring reading materials, laptop, or other activities to occupy your free time. (Wi-Fi is available.)
If you are under 18 years of age, a parent or guardian is required to stay with you for the entire duration of testing. Most rooms have an overstuffed recliner that is very comfortable for sleeping.
Notify us if you require special assistance. You may be required to have a caregiver present during testing.
If you are using positive airway pressure therapy (CPAP), bring your mask and headgear. If you have an oral appliance and are having a follow-up sleep study, please bring your oral appliance, adjustment key and/or bands.
Bring toiletries and a change of clothing. We provide towels to wash up in the morning.
If you'd like to bring a healthy snack for the evening or morning, or if you have special dietary needs (e.g., gluten free), please bring snacks with you. 
Service dogs trained to assist people with medical disabilities are allowed with prior authorization by our physician.
After the Sleep Study:
Your technologist will begin waking you at 5:00 am and remove the sensors and equipment. This can take about 20 minutes. Coffee and breakfast bars are available for you in the morning. If you have dietary restrictions, we recommend you bring your own snacks.
The RSPGT will not be able to review or share your results with you. The information is sent to your doctor or a sleep specialist for evaluation. You should follow up with your doctor to get the results in 7-10 days.
By following these simple guidelines your sleep study should go soundly, and you'll soon be notified of the results of your study and recommendations for therapy.