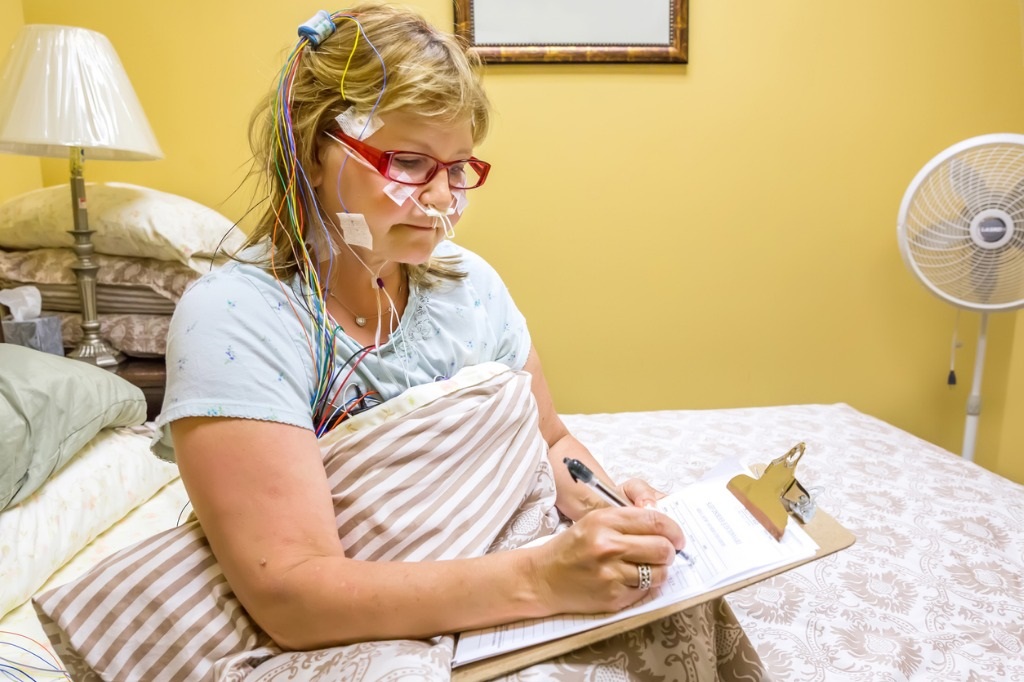 Sleep Study Instructions
On the night of your study, you will be asked to report to your designated sleep laboratory between 8:30 pm and 9:45 pm, depending on your appointment time/type. Please arrive on time for your appointment. Unfortunately, if you are late, your study might need to be rescheduled. Our Registered Polysomnographic Technologists/Respiratory Therapists will greet you in our waiting area and escort you to your private room.
You may go to sleep at your normal bedtime within the constraints of our sleep center protocols. Keep in mind, the earlier you go to bed, the more time we have to evaluate your sleep patterns. During the night, our sleep technologist will be available to assist you as needed. They may need to enter your room during the night should one of your sensors loosen during your sleep. If possible, we attempt to do this without waking you up or disrupting your sleep.
SLEEP STUDY INSTRUCTIONS
On the day of the study, make sure that your hair is clean, dry, and free of oils, gels, hair spray, and other products. The scalp must be accessible as there are several electrodes (sensors) that the technician has to place directly on the scalp. If you wear a wig or extensions that do not allow the technician to get to your scalp, the study will need to be canceled.
You will have sensors applied with gel/paste, and possibly tape. They will be placed on your head, chin, around your eyes, legs, chest, and fingers, to record sleep activity.
Avoid napping on the day of the study.
Eat a regular dinner that evening but avoid a heavy meal. If needed, you can bring a light evening snack to your sleep study.
Avoid caffeine or stimulants for 12 hours before your scheduled time of arrival at the Sleep Center, unless prescribed by the doctor.
You may bring your own pillow and comforter if that makes you more comfortable. Bedclothes are necessary. Please wear something comfortable such as gym shorts, loose lounge pants, and a t-shirt or pajamas.
Please do not bring any valuables with you to the Sleep Center.
Bring any medications, both prescription and over the counter, that you usually take prior bedtime unless your physician instructs otherwise. Technologists are unable to dispense any medications.
Bring reading materials, laptop, or other activities to occupy your free time. (Wi-Fi is available.)
If you are under 18 years of age, a parent or guardian is required to stay with you for the entire duration of testing. Rooms have a recliner that is very comfortable for sleeping.
Notify us if you require special assistance such as help getting in and out of bed or walking to the restroom. You may be required to have a caregiver present during testing.
If you are using positive airway pressure therapy (CPAP), bring your mask and headgear. Please note that electrodes and sensors will still need to be applied for a CPAP or any titration study.
If you have an oral appliance and are having a follow-up sleep study, please bring your oral appliance, adjustment key, and/or bands. Please note that electrodes and sensors will still need to be applied for your study.
Bring toiletries and a change of clothing. We provide towels so that you may wash up in the morning.
AFTER YOUR SLEEP STUDY
Your technologist will begin waking you at 5:00 am and remove the sensors and equipment. This can take about 20 minutes. The RSPGT will not be able to review or share your results with you. The information is sent to your doctor or a sleep specialist for evaluation. You should follow up with your doctor to get the results in 7-14 days.
WHAT ELSE DO I NEED TO KNOW?
As we have several locations, please be aware and make note of the CSCC sleep center, suite number, and entry instructions for the specific location where your study is scheduled.
WHAT IS AN MSLT OR MWT
Multiple Sleep Latency Test (MSLT) / Maintenance of Wakefulness Test (MWT) The MSLT test for excessive daytime sleepiness works by measuring how quickly you fall asleep in a quiet environment during the day. Also known as a daytime nap study, the MSLT is the standard tool used to diagnose narcolepsy and idiopathic hypersomnia. The Maintenance of Wakefulness Test (MWT) is used to measure how alert you are during the day. It shows whether you can stay awake for a defined period. This is an indicator of how well you can function and remain alert in quiet times of inactivity.
CANCELING A SLEEP STUDY
If you need to cancel your scheduled sleep study, you must give the Sleep Center a 72-hour notice. To reschedule your study, call 703-729-3420 or a cancelation fee of $150 will be charged.
SPECIAL ASSISTANCE/NEEDS
If you currently use any of the items listed below, reside in a skilled nursing facility, or have any other special needs, please call the Sleep Center as soon as possible: * Wheelchair       * Personal Care Assistant    * Incontinence pads   *Oxygen   * Medication assistance      * Lifting devices    * Special bed    *Recliner